Status of the transformation
Thanks to the generous support of thousands of alumni and friends, the Landmark Project is now well underway and construction is slated to be completed in Fall 2023. All areas of the project are either actively under construction, or in the final stages of construction.
Once finished, the new spaces will be available for our community—students, faculty and staff—to enjoy, and we hope all our alumni return to campus to see the transformation and to revisit the spaces they loved as students.

Find an area:


---

Warning: Undefined array key "className" in /local/www/html/landmark.utoronto.ca/public/wp-content/themes/uoft-theme-v5/blocks/location-description.php on line 16


Convocation Hall

The area outside Convocation Hall is now Alumni Plaza, a beautiful new space named by the University of Toronto Alumni Association in honour of our incredible alumni community. The space features over 2,000 inscribed granite donor paving stones—which wrap around the building to Simcoe Hall. In the coming months, the area will be completed with the installation of two large seating walls and four new gardens.

This June's convocation ceremonies are the first to take place in this new space. We are excited to see Alumni Plaza become an important gathering place for community celebrations and connection in the coming years.


Warning: Undefined array key "className" in /local/www/html/landmark.utoronto.ca/public/wp-content/themes/uoft-theme-v5/blocks/before-after.php on line 16


In final stages, west view (Spring 2023)
In final stages, west view (Spring 2023)
×
×

Warning: Undefined array key "className" in /local/www/html/landmark.utoronto.ca/public/wp-content/themes/uoft-theme-v5/blocks/slider.php on line 16

---

Warning: Undefined array key "className" in /local/www/html/landmark.utoronto.ca/public/wp-content/themes/uoft-theme-v5/blocks/location-description.php on line 16


J. Robert S. Prichard Alumni House

The area east of the J. Robert S. Prichard Alumni House has been transformed into a gorgeous new plaza, which is now fully accessible to pedestrians. In April 2023, close to 500 inscribed granite donor paving stones were installed in this area. The space also features two large new granite seating walls.

Planting will continue throughout the spring and summer and, once complete, this area will include two new gardens, new trees and seating areas for our community.


Warning: Undefined array key "className" in /local/www/html/landmark.utoronto.ca/public/wp-content/themes/uoft-theme-v5/blocks/before-after.php on line 16


In final stages, west view (Spring 2023)
In final stages, aerial view (Spring 2023)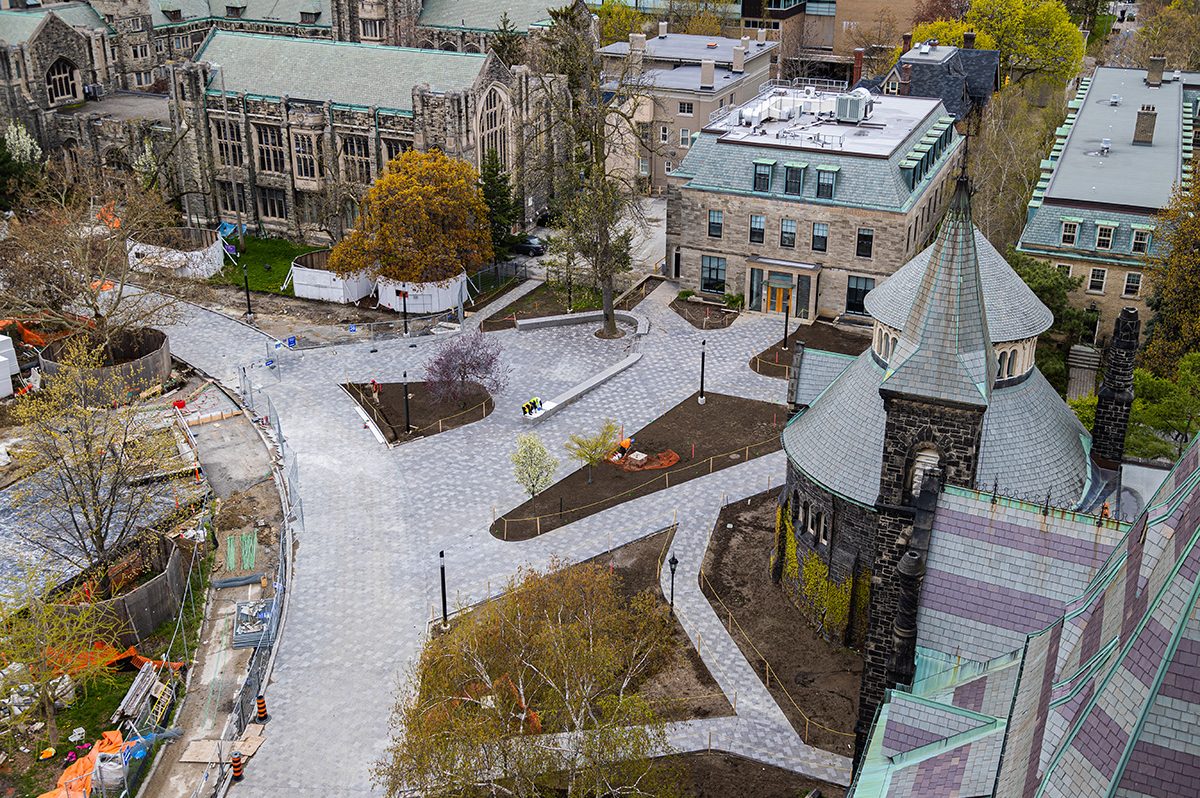 ×
×

Warning: Undefined array key "className" in /local/www/html/landmark.utoronto.ca/public/wp-content/themes/uoft-theme-v5/blocks/slider.php on line 16

---

Warning: Undefined array key "className" in /local/www/html/landmark.utoronto.ca/public/wp-content/themes/uoft-theme-v5/blocks/location-description.php on line 16


King's College Circle

Construction continues at King's College Circle, the symbolic heart of the St. George campus. Canada's largest urban geothermal field is now installed beneath the Circle and will save an estimated 15,000 metric tons of greenhouse gas emissions each year—equivalent to removing 3,000+ cars off the road—making a significant contribution to greening our campus. We are also completing construction of a new underground parking garage that is expected to open later this year, allowing us to make our campus more pedestrian-friendly by removing surface parking from the Circle.

Once the front campus is complete, a stunning necklace of granite pathways, 22 new gardens, new trees, and new benches will transform the Circle into one of the most significant green spaces in Toronto's urban core.


Warning: Undefined array key "className" in /local/www/html/landmark.utoronto.ca/public/wp-content/themes/uoft-theme-v5/blocks/before-after.php on line 16


Before construction, north view
After construction, north view (artist's rendering)
×
×

Warning: Undefined array key "className" in /local/www/html/landmark.utoronto.ca/public/wp-content/themes/uoft-theme-v5/blocks/before-after.php on line 16


Before construction, northwest view
After construction, northwest view (artist's rendering)
×
×

Warning: Undefined array key "className" in /local/www/html/landmark.utoronto.ca/public/wp-content/themes/uoft-theme-v5/blocks/slider.php on line 16

---

Warning: Undefined array key "className" in /local/www/html/landmark.utoronto.ca/public/wp-content/themes/uoft-theme-v5/blocks/location-description.php on line 16


Temerty Faculty of Medicine

The landscapes around the Temerty Faculty of Medicine have been transformed through the Landmark Project. The new University of Toronto Students' Union (UTSU) Welcome Path, built with support from the University of Toronto Students' Union, provides an accessible new gateway to campus from Queen's Park and is flanked by new trees and gardens. The courtyard outside the Medical Sciences Building has been revitalized with the addition of two new gardens and benches, and now serves as a beautiful and inviting meeting place for students and faculty.

Work continues on the future Temerty Plaza, which will be located to the north of the Medical Sciences Building and is named in recognition of James and Louise Temerty's transformative support for medical training and research at the Temerty Faculty of Medicine. To date, a new seating wall and paving stones have been installed, while work continues on a new pavilion, outdoor seating area, and two new gardens.


Warning: Undefined array key "className" in /local/www/html/landmark.utoronto.ca/public/wp-content/themes/uoft-theme-v5/blocks/before-after.php on line 16


Before construction, aerial view
After construction, aerial view (artist's rendering)
×
×

Warning: Undefined array key "className" in /local/www/html/landmark.utoronto.ca/public/wp-content/themes/uoft-theme-v5/blocks/slider.php on line 16

---

Warning: Undefined array key "className" in /local/www/html/landmark.utoronto.ca/public/wp-content/themes/uoft-theme-v5/blocks/location-description.php on line 16


Hart House

The areas in front of Hart House and the Louis B. Stewart Observatory have been transformed with the addition of granite paving stones, five new trees and three new gardens.

To the south, construction continues on "The Grandchildren's Garden" supported by Chancellor Emeritus David and Shelley Peterson, with the addition of seven new trees and a new pedestrian pathway. Stunning granite pavers will seamlessly connect at Hart House Circle and King's College Circle, and at the new Houlden-Yen Family Arrivals Plaza.

To the east, the area formerly known as Hart House Green is being redeveloped as the Ziibiing project, which means 'river' in Anishinaabemowin. This new space will pay tribute to the Indigenous nations that lived alongside Taddle Creek, while creating a gathering space for Indigenous students, faculty and community members.


Warning: Undefined array key "className" in /local/www/html/landmark.utoronto.ca/public/wp-content/themes/uoft-theme-v5/blocks/before-after.php on line 16


Before construction, west view
After construction, west view (artist's rendering)
×
×

Warning: Undefined array key "className" in /local/www/html/landmark.utoronto.ca/public/wp-content/themes/uoft-theme-v5/blocks/slider.php on line 16

---

Warning: Undefined array key "className" in /local/www/html/landmark.utoronto.ca/public/wp-content/themes/uoft-theme-v5/blocks/location-description.php on line 16


Tower Road and Soldiers' Tower

Tower Road has been entirely repaved with granite paving stones and is now flanked by beautiful new trees and two new gardens set against the backdrop of the historic architecture of Hart House and Wycliffe College. To the west, work has been completed on Scace Walk, supported by Arthur and Susie Scace. This new space features concrete bleachers, trees and gardens, and will serve as an inviting space to gather and watch sporting events.

Further south, the new RG Macdonald Plaza at Soldiers' Tower is now open to the public. This new space will serve as a beautiful and dignified setting for the University's Remembrance Day ceremonies and for quiet reflection and commemoration year-round.


Warning: Undefined array key "className" in /local/www/html/landmark.utoronto.ca/public/wp-content/themes/uoft-theme-v5/blocks/before-after.php on line 16


In final stages, south view (Spring 2023)
In final stages, north view (Spring 2023)
×
×

Warning: Undefined array key "className" in /local/www/html/landmark.utoronto.ca/public/wp-content/themes/uoft-theme-v5/blocks/before-after.php on line 16


In final stages, east view (Spring 2023)
In final stages, northeast view (Spring 2023)
×
×
---

Warning: Undefined array key "className" in /local/www/html/landmark.utoronto.ca/public/wp-content/themes/uoft-theme-v5/blocks/location-description.php on line 16


Back Campus and Sir Daniel Wilson Quadrangle

The Bapsy and Darius Irani Garden at Hoskin Avenue is now open to the public. This new garden—with trees and flowers planted in 2022—opens to views of the athletic fields, University College and the Soldiers' Tower. The pedestrian path alongside Whitney Hall has been rejuvenated with a new garden, new trees and benches. The character of Sir Daniel Wilson Quadrangle has been preserved and enhanced with the addition of six new gardens, new trees, seating areas and donor pavers.


Warning: Undefined array key "className" in /local/www/html/landmark.utoronto.ca/public/wp-content/themes/uoft-theme-v5/blocks/before-after.php on line 16


In final stages, east view (Fall 2022)
In final stages, north view (Spring 2023)
×
×