The University adds new location for Landmark Project pavers thanks to overwhelming support from alumni and friends
With the Convocation Hall and Simcoe Hall locations sold out, U of T designates the Plaza at Alumni House as a beautiful new site for commemorative pavers
"I will forever be indebted to this great institution for what it has done for me and my family," says Harvey Botting (BA 1967 VIC, MBA 1985), who is among thousands of U of T alumni and friends leaving their mark in the historic core of St. George campus with a Landmark Project paver.
Botting's paver honours his family members who are U of T grads, and will be placed in the plaza outside Convocation Hall: "For the rest of my life, I will walk to King's College Circle (KCC) and visit my family's square foot of granite."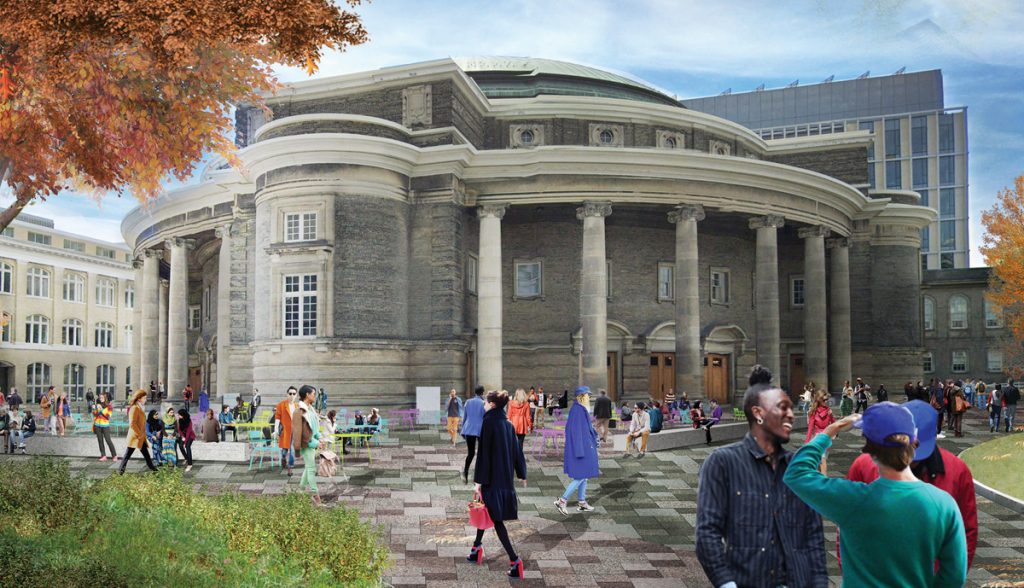 A beautiful new location in the heart of KCC
Pavers outside Convocation Hall and Simcoe Hall have sold out thanks to the overwhelming support of alumni and friends in Canada and around the world.
In response to continuing demand, the University has announced plans to expand the Landmark paver initiative to include the new Plaza at Alumni House—a beautifully revitalized space in front of J. Robert S. Prichard Alumni House, in the heart of historic King's College Circle—as a site where donors can permanently and proudly commemorate their connection to the University of Toronto.
A lasting tribute
Personalized pavers offer a unique and meaningful way to pay tribute to a loved one, celebrate a milestone or commemorate an important U of T memory. With a gift of $1,000, your name — or that of a loved one — will be engraved on an elegant 12" x 12" granite paver placed on the Plaza at Alumni House.
Pavers are limited, so it's important to act quickly. Take advantage of this unique opportunity today to leave your mark in the historic heart of the University of Toronto and help create a special place for generations of students, alumni and visitors to gather and enjoy.
When completed, the core of St. George campus will once again serve as a thriving centre of campus life. One of the most significant open space projects to take place on the downtown campus in the past 200 years, the Landmark Project will introduce vibrant new plazas, safe and accessible pedestrian pathways, and glorious green spaces. The initiative is also moving surface parking underground and installing the largest urban geothermal field in Canada beneath King's College Circle.
Join Harvey Botting and the more than 3,000 donors from Toronto and around the world, in reimagining U of T's downtown campus as an even more inspiring to learn, live and work. Read our donor stories, take a look at the renderings and discover how you too can leave your mark!
Posted on March 17, 2021